We are a participant in the Amazon Services LLC Associates Program, an affiliate advertising program designed to provide a means for us to earn fees by linking to Amazon.com and affiliated sites.
Holiday Hair Tutorial – Side Bun with Bling
Disclosure: This post contains affiliate links.
Looking for an easy holiday look, well check out this awesome tutorial from Madison Reed. You can also see my review of their awesome hair color here.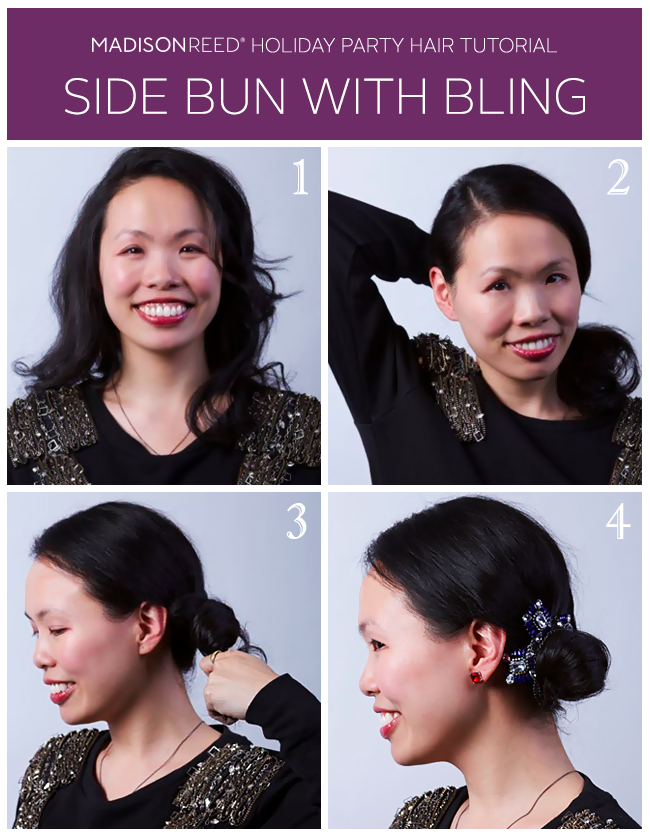 How to Create a Side Bun with Bling
1. Start with dry hair. Use a curling iron to add a little texture. We find that second-day hair works really well, too.
2. Make a side part. Gather hair below the ear on the side opposite your part for a more dramatic effect.
3. Twist hair and pin into a bun.
4. Add a beautiful barrette right above the bun. Get creative with what you have! In this photo, we took a shiny necklace and pinned it above the bun. Use bobby pins to fasten securely for style that won't stop.
Even the simplest of styles can be dramatic with a little extra sparkle. Give your hair that extra shine every day with Madison Reed Radiant Color Kit or the new semi-permanent Color Reviving Gloss. Madison Reed's hair color is better for you and better for your hair as it contains no harsh chemicals like PPD or ammonia. Find your perfect hair color now!
Take advantage of a Free Upgrade to 2-Day Shipping! Get 2-Day Shipping for the price of Standard Shipping through December 21, 2014
– no code needed.